Our website is constantly being updated as boats come in and are being sold
Feel free to call us for available boats that may not be on our website yet
Yearly Preferred Dock rates available with purchase of boats at Parker Marine
Ask about our "preferred dock rate" program
2015 20' Pontoon boat w/60hp Mercury 4/S
Really nice condition
NOW ON DISPLAY

Boat was purchased new, docked, stored and serviced at Parker Marine since
Loaded with standard and optional features:
Captains helm seat upgrade (swivel, slide& recline)
Custom fiberglass helm with footwell
SE Pkg (interior upgrade) w/Color Matched helm and Removable table
Vinyl floor upgrade
Removable seat cupholder upgrade
Bimini top and Playpen/mooring cover
Sundeck with Full size changing room with removable curtain
Sport custom helm with gauge package, stereo with 4 speakers and 12 volt recepticle
Boat also comes with Vinyl floor upgrade
Some safety equipment is included with boat
PREFERRED DOCK RATES AVAILABLE
2014 Caravelle 24 EBI Bowrider w/5.0L Mercruiser (260hp)
2 year warranty on engine and outdrive!
Display model Clearance
Bow and Stern Boarding Ladders a real plus on this model!
Loaded with standard and optional features:
Custom Colored Hull w/gra[hics, Fiberglass liner floor,
Large intergraded swim platform w/boarrding ladder and
Transom ski eye tow
Sport Seating w/Bolster Helm and Passenger Seats
Sundeck, L-shaped stern seating
Flip up walk-thru stern entrance for easy boarding

Cockpit sink, built-in cooler and trash recepticles
Full Gauge package, Depth finder, Stereo w/speakers
Full size walk-thru windshield for easy access to bow
Bow Seaing w/backrests, Bow filler cushion a real plus!
Bow fold away boarding ladder
Cockpit cover, Bow cover and Bimini Top all included


MSRP to Alton Bay NH / Rigged - $57,608.00
Clearance pricing on this new display model
$39,995.00
trailer not included in price
We can not take trades on this boat
2017 Bentley 220 Cruise Pontoon w/115hp Mercury 4/S - Transferable warranty

Beautiful Color - Black w/SE Tan - Copper Accent interior
Single owner / Stored, docked and service at Parker Marine since new!
This boat is in storage and will be one display soon - additional photos will be posted as they become availabl

Standard Features-
Custom Fiberglass Console w/ Foot-well and Windscreen
Faria Digital Gauges / 12 Volt Receptacle
Sundeck & Full size Changing room
Removable Table w/ Cupholders
Stereo / MP3 Adapter, 4 Speakers
3 gated entrances w/rear boarding ladder
Rotocast Furniture bases / Built-in cooler
Navigational Lights & Halogen Docking Lights
Bimini Top
Optional Features included:
SE pkg (interior upgrade, color matched console, seat cup holders)
Hydraulic Steering and Tilt Steering
Highback Captain's Helm Seat
Seagrass Vinyl floor - upgrade
Playpen / Mooring cover
Ski tow

Removable gate seat- Available - Additional $500.00

s
2015 RAZOR 219UU - Display Model Clearance deal - $43,995.00 = GO BOATING PROMO $42,995.00
w/150hpMERCURY 4/S - motor warranty
This combo pontoon / deckboat has lots of extras including a Coleman Grill and AC/DC Built in Cooler
Comes w/trim & tilt, Hydraulic steering and SS Prop
Comes with Galv Custom trailer w/front steps
Standard and Features:
Full fiberglass molded deck and hull -
Premium colored hull with graphics package
Full gauge package, sport steering wheel, 12 volt charger
Navigational lights, docking lightsr
AM/FM stereo w/MP3 adaptor
Bolster helm seat, U shape bow seating
2 gated entrances with Bow Boarding ladder
Custom Mooring Cover and Bimini top included
Large Floor Storage
Custom Razor table (1) with cupholders
MSRP TO ALTON BAY NH NEW - $57,250.00
Razor_219UU_in_y_ard_007.JPG
2015_200_cruise_white_and_tan_008.JPG
Now on display

photos can be found on our Used Pontoon boat page - Click of photo to be directed to page

2004 Lowe 220 Trinidad Suncruiser Pontoon boat w/70hp Johnson 4/S
Boat comes with bimini top and playpen cover (showing some wear)
Bucket Captain's seat / Console w/storage and hinges door
L Corner seating with Sundeck and changing room (plenty of storage in changing room area)
2 Front bow couches - Roto Cast furniture bases and plenty of storage unders seat / Arm rest storage bins

Docking lights / Nav lights / Stereo
Go Boating Promo

Additional 2 year Mecury - MMP Extended Gold Coverage

Free limited time

2017_220_Bentley_Cruise_used_black_tan_copper_014.JPG
GO BOATING PROMO DEAL ON THIS BOAT
Free 2019 Dock (Limited time)

Used 2017 24' Bentley 240 Cruise 115hp Mercury 4/S
Transferable Warranty
Included is a Venture Tandem Axle Trailer
Info coming soon
photos pending
This boat is on the property and available to be seen during normal buisiness hours
Loaded with features
SE Package, Bimini Top, Playpen/mooring cover, Highback Captain's seat, 2 front couches L corner seat
Sundeck and Full Size Changing room and Beautiful Seagrass Vinyl Floor
Rotocast funiture bases with Built-in cooler and plenty of storage
Hydraulic steering and tilt wheel
Additonal info coming soon
240_Cruise_brokerage_027.JPG
2017 Bentley 200 Fish and Cruise Pontoon 60hp Mercury 4/S C/T w/warranty!!
Now on dispaly - $24,995.00 - Ask about Weekend Special 4/13!

Slightly Used 2017 20' Bentley 200 Fish and Cruise 60hp Mercury 4/S C/T
Transfeable Warranty!
This Boat Has Very Low Hours!

2004 Galv pontoon trailer with front steps included in price!

Info coming soon - photos of boat in water file photos - additional interior pics coming soon

Sundeck with Full size changing room, Double wide bench helm seat with storage,
L corner seating with rotocast funture bases, 2 bass seat in bow and rod holders
Stereo and speakers, Bimini top, Playpen/mooring cover
Now on display
2011 Bayliner 18' Bowrider w/3.0L Mercruiser and trailer
This boat has gone thru our shop and is ready for spring delivery
$18,900.00

Full-Size Walk Thru Windshield / Bow Seats w/Backrest and Storage
Back to Back Lounge Seats Captain's Bucket Seat

Grab Handles and Cupholders Through-out
Full Gauge Package (Volt, Trim, Fuel, Speedo, Tacho, Oil, and Temperature) / 12V Receptacle / Tilt Steering

Floor Storage / Tansom Ski Eye / Integrated Swimplatform w/Rear boarding ladder

Cockpit and Bow Covers / Bimini top

Integrated Swim Platform w/ Rear Boarding Ladder

1998 20' Playbouy Pontoon w/60hp Mercury Bigfoot

Lots of seating this boat comes with individual seat covers, bimini top, ski bar and more
$15,900.00
boats_in_yard_01533878.JPG
Go Boating Promo
Additional $1,000.00 off
Now thru "Ice Out"
Free 2 year MMP Extended Gold Extended Coverage

and
Free slip for 2019 season
**Go Boating Prom0**

Additional 2 yr Mercury MPP Gold coverage FREE

Clearnance discounts & Additioinal GO BOATING discounts!!!!
See our Caravelle Boat page
17' New display model - 90hp and trailer!
Call Mark for more info on this great deal

2005 1999 20' Chaparral Cuddy w/4.3L Mercruiser and Venture Trailer
Info pending
photos pending

2016 Razor 249E 25' Performance fiberglass Pontoon/deckboat
150hp Mercury 4/S - Motor comes with transferrable warranty

Call Kim for more info - $46,800.00

Owners boat - Under 20 hours!


Standard and Optional Features:
Full fiberglass molded deck and hull - Premium colored hull with graphics package
Full gauge package, depth indicator, sport steering wheel, 12 volt charger
Blue LED courtesy lights, navigational lights, docking lights
Coleman grill, Sink w/6 gal water storage and AC/DC built in cooler
AM/FM stereo w/MP3 adaptor
Changing room, pop-up cleats
Bench helm seat, FRONT & rear Loungers
3 gated entrances with Boarding ladder as stern
Custom Mooring Cover
Wakeboard tower w/premium sound system and speakers
Bimini top for wakeboard
Custom Razor table with cupholders, Kitchen package, Galley door w/storage containers
MSRP To Alton Bay Nh, new - $69,407.00


Coming soon
2003 Bayliner cuddy w/Mercruiser - $

Docked and stored at Parker Marine since new!
Info pending / photos pending

This unit is SOLD but we still have a 2017 Bentley 240 'Cruise available w/115hp w/tranferable warranty and Galv Tandem Trailer!
2006 Lowe Trinidad 200 Pontoon
75hp Mercury Optimax w/New Powerhead and Oil tank w/warranty

Galv Tandum axle trailer / inside bunk load guides and front steps included - $21,800.00

Can be purchased with out trailier - $20,800.00 w/o trailer
This boat has gone thru our shop and is currently in winter storage / Ready for spring delivery!
Captain's Helm Seat, Console w/storage door /and Removable Windscreen
L-corner seat and 2 Front Couches / Sundeck w/changing room
Rotocast funiture bases w/plenty of storage
Courtesy light . Nav lights / Gauges
Bow and stern boarding ladders / Bow anchor bin / Table w/cupholder

Bimini top
Storage Cover

Can be purchase without trailer - Deduct $1,000.00
2017 Key Largo 160CC w/60hp Mercury 4/S C/T

3 year war

ranty on motor
Trailer included in price!

Center Console - Display Model Clearance! $18.700.00! - No trades
No additional discounts except Preferred dock rate

Standard Features:
12 Volt Charging Port, Auto Bilge Pump, Large Aerated Livewell, Cooler Seat w/ Cushion, 72 Qt

Optional Features included in our price:
60hp Mercury 4/S C/T Motor upgrade
Premium Sport Fish Pkg
Bimini top
Cushion pkg
Low Bow Rails
MSRP TO ALTON BAY NH - $30,195.00 ( with above options)

*Clearance and Display models do not have cosmetic warranty on hull or accessories
Now on display

2016 Bentley 220 Rear Lounger Pontoon w/115hp Mercury 4/S and Transferable Warranty! - $29,500.00
Photos pending / File Photos

STANDARD FEATURES-
Custom Fiberglass Console w/ Foot-well
***Bench seat w/Companion Captains seat
Gauges / 12 Volt Receptacle
Table w/ Cupholders
Stereo / MP3 Adapter / Bluetooth & Speakers
Gate w/Latches w/rear boarding ladder
Rotocast Furniture Bases
Built in cooler
Navigational Lights & Halogen Docking Lights
9' Bimini Top
********
***OPTIONAL FEATURES INCLUDED***
SE Pkg (color match console, deluxe seat, removable seat cupholders)
***Captain's Helm Seat- upgrade
Tilt Steering
Hyd Steering
Teak Vinly Floor - upgrade
Playpen / Mooring cover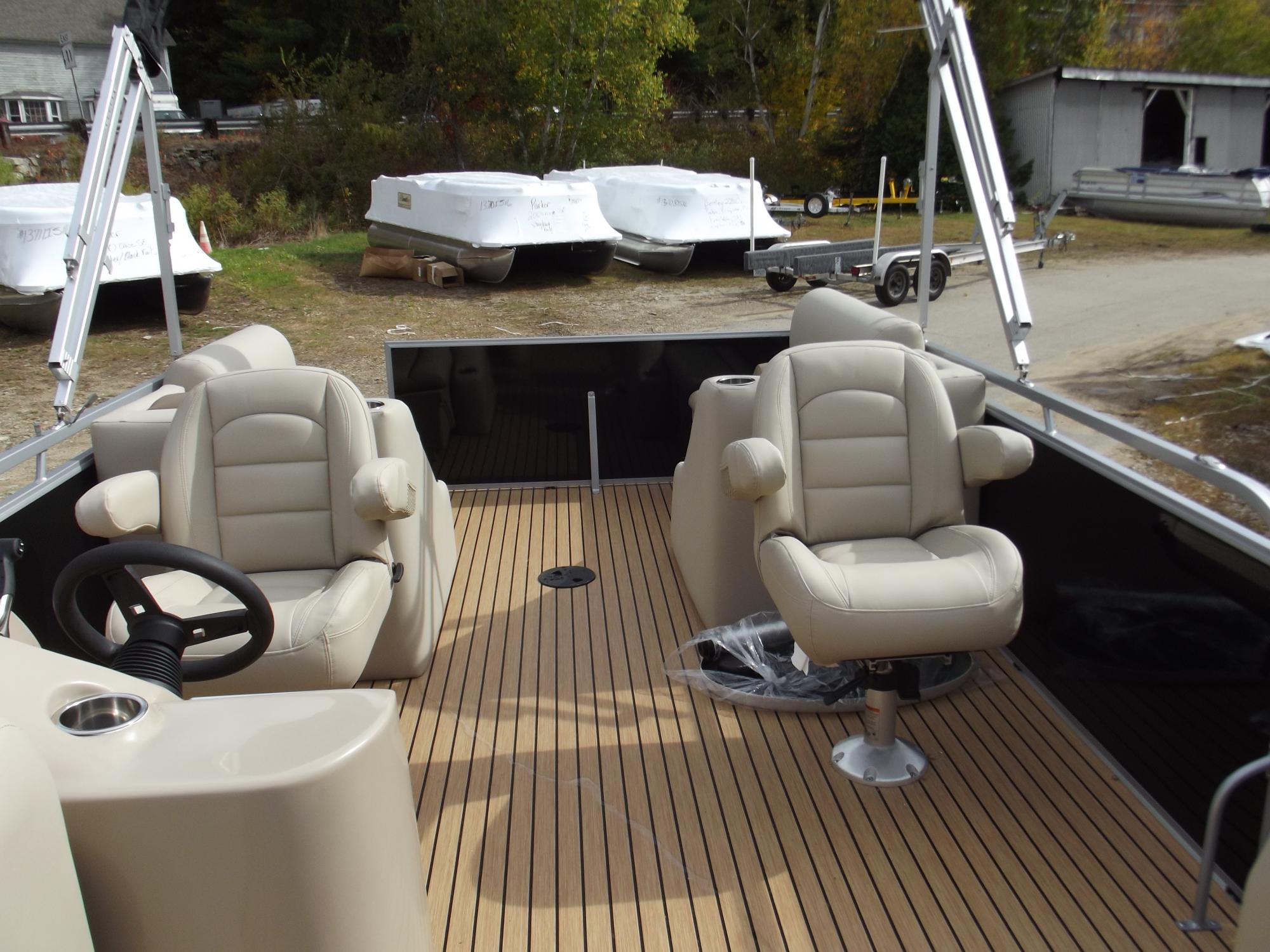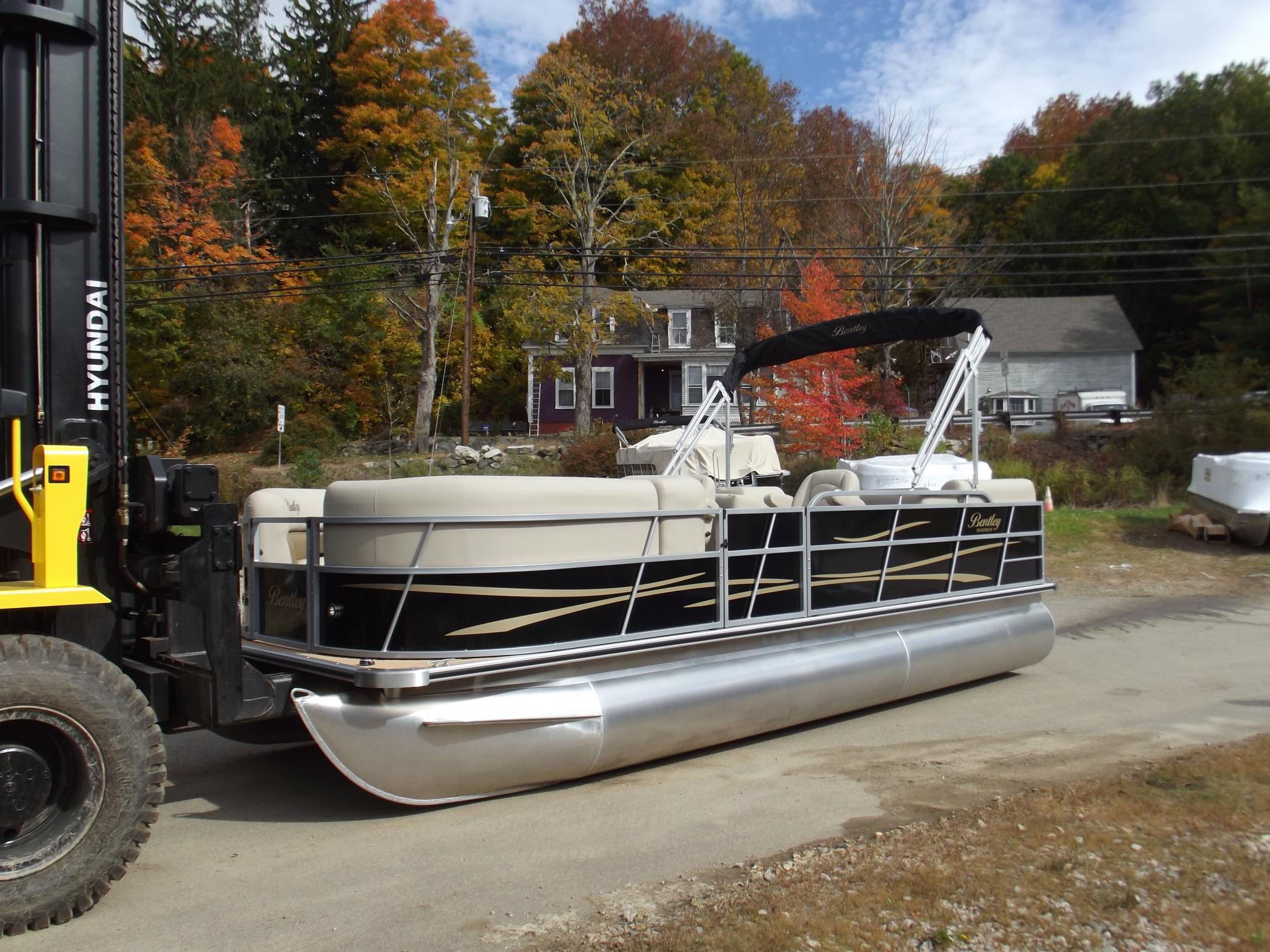 Another Great Deal Coming soon - 2017 Bentley 220 Elite Admiral / Loaded with features / 115hp Mercury 4/S -w/warr